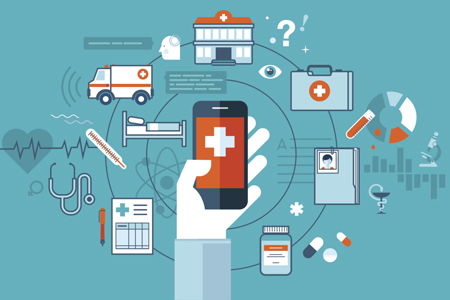 The Intense pressures on the health care industry are more complex than the simple delivery of quality medical care. The health care industry, particularly in the United States of America is undergoing a radical change in terms of providing health care services electronically in order to eliminate the existing drawbacks and provide health care services to the satisfaction of customers. The pressure to maintain huge volumes of data and the importance to ensure accuracy and reliability of the data repository requires companies to utilize technology in order to address the increasing demand of the industry.
The dependence of the Healthcare sector on IT infrastructure is immense. We aim to deliver customized and integrated solutions to give your company the edge. We deliver a powerful combination of consultative delivery and integration capabilities to create value for our clients and for patients. Technological solutions hold out the promise of relief on the burden of compliance, but are not without their own challenges.
If you are migrating to electronic health records, how do you proceed, if your legacy systems can't be seamlessly integrated ???? with the changing HIPPA requirements, is there a way to sync with the regulation and find competitive advantage in approach to patient rights ?? if you are automating your claims processing operations, how do you optimize the cost-control as well as the efficiency benefits.
Our competitive edge is our consultants expertise, their depth of experience in the healthcare industry consulting. they have contributed their share in developing the broad range of customizable solutions - claims processing and management solutions, provider management and network design, pharmacy benefit management services, healthcare data warehousing and analytics, disease management, HIPAA compliance, electronic health records, accelerated XP deployment, and server consolidation
Contact one of our Consulting professionals today to see how we can help you.
Contact Us